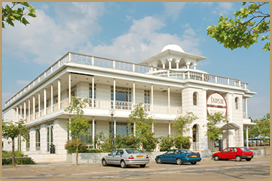 The Jaipur advertises itself as the largest Indian Restaurant in Europe.  I am not in a position to verify or refute this, but it certainly is an impressive edifice. It came recommended by my companion and so we took a taxi through the snow to sample it's renowned cuisine.  The foyer gives no real impression of the remainder of the complex which has the Indian restaurant on the ground floor to the left and the "Orchid Lounge" Thai somewhere else. Our coats were duly collected and we were ushered into the spacious restaurant area.  It was sparsely occupied, maybe on account of the weather.  My concern would be that on a busy night the tables for two are placed very close together and it would probably be difficult, if not impossible, to have a tête-à-tête.  This was confirmed by another friend who personally encountered this problem.
But I digress!  Whilst we perused the menu we ordered Puppadoms, which came with the inevitable chutneys.  They provide a good selection which includes an excellent lime pickle.  My friend mixes the chopped onion with mango which makes an interesting combination.
We decided to miss the starters and go for a main course each and a couple of vegetable side dishes.  Lal Maas, a lamb and red chilli dish, Aloo Gobi, potatoes and cauliflower and  Chana Bhagee, chick peas with onions and tomatoes and spices.  The cuisine is exemplary.  Lal Maas is naturally hot but they managed to capture the full flavour of all the spices and  the lamb was cooked to perfection.  Too often it is  stringy or gristly or both.  Both the side dishes were cooked to leave the vegetables and pulse firm and had just sufficient sauces to produce a full flavour without being intrusive.
I do not think I have got this far before without mentioning the wine.  A Chilean Merlot  that proved to be strong enough not to be overpowered by the food.
We finished up with excellent coffee, freely refilled, and a couple of very acceptable Courvoisier cognacs.
Verdict.  Food perfect and service pretty good.  I am to be convinced by the ambience but not enough to stop me from going back to try out another section of the menu.