06 December 2003
Another year nearer to retirement no less!  Life is getting to be a series of breakfasts with a little frenetic action in-between.  Well perhaps not quite that bad, but the year seems to have flown by again.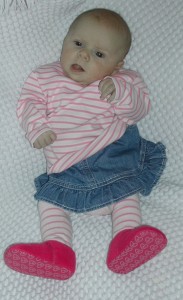 The two main pieces of news are that we have a new granddaughter (Leah) born in September and secondly, and of less importance I am taking over as general manager of the firm starting in January.  I'm not sure that I need the hassle but cannot turn down the money.  Interesting times ahead.  It's hard to believe I have been with them for nearly 20 years now.
Apart from this it has been a fairly quiet year.  We did not manage to get abroad for a holiday but have managed to get down to the Republic for a few weekend breaks, Dublin, Cork and Arklow.  In the summer we took off to Kilkenny with the caravan, dogs and golf clubs.  Josephine has taken up playing as well so at least she cannot complain of being a golf widow.  Keeps us out of mischief anyway. I finally gave up playing hockey last season as throwing oneself around in the cold and wet with 18 year olds shying balls at one ceased to be interesting option.  We are hoping to get away to somewhere interesting together next year.  I am trying to organise a trip to a couple of trade fairs in southern China next March, but unfortunately (?) do not think the firm will subsidise wives.  We have cut out most of the European shows, as they are no longer cost effective.
Do not know if anyone remembers Ted Haslam, he was OC E Troop back in '81.  Had a call out of the blue saying he was passing through on a job, he's a private eye of some sort these days, and could we meet up.  Had a great evening reminiscing.
Peter finally got into University this September.  He was at tech doing a construction course and was suddenly offered a place at the University of Ulster reading engineering.  Cannot really believe it.  I have a feeling that he is attempting to become a professional student.  Anything seems to be better than working, although he does have a part time job in the local cinema to finance his social life.
Touch wood there have been no real disasters so far this year.  So I am hoping that 2004 will be the same.
Well that's it from me.  I will end by wishing you a very happy Christmas and all the very best for the New Year.