Another gem on the Lisburn Road, Uel's offers a variety of fare at reasonable prices.  Not licenced, but they will let you bring your own wine  against a corkage charge.  It being mid afternoon we were not in for wine anyway.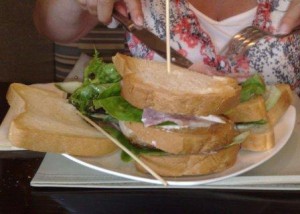 Josephine had the club sandwich which would have fed a family of four.  Char grilled chicken, local ham, bacon and sun blush tomatoes, plus nachos and green salad on the side.  The waitress asked if we would like anything left to be wrapped to take home!
I had wild mushrooms with basil pesto and grated parmesan which left me with nothing to complain about.
Not a bad little bistro and we did take half the club sandwich home!