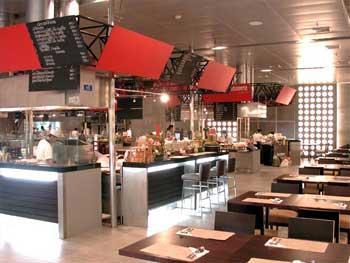 It is the first time I have come across an eatery which offers about 8 individual country based service counters all cooking their various menus to order. This is in addition to the bar and sweets areas.
Located on the 7th floor of the Central Department Stores building in Chidong; on entering one is given a card on which you can purchase food/drinks up to the value of 1000bht (currently around £20). All bags bigger than handbags have to be checked in. Find yourself a table and ask one of the numerous waiters to put an occupied sign on it. You choose your starters or whatever at one of the stands where your card is scanned and you are given a receipt. Return to the table and give it to a passing waiter who will then collect it when ready. The process is repeated for each course you fancy from whichever country you fancy, Thai, Korean, Italian, Greek, Chinese etc. etc. If you run over your limit, (hard to do) you must pay the card and get a new one. No chance of holding two cards. Nor can you get out without it!!
The food is great, well prepared and true to type. The wines and beers are good and not expensive. A really great place to eat.