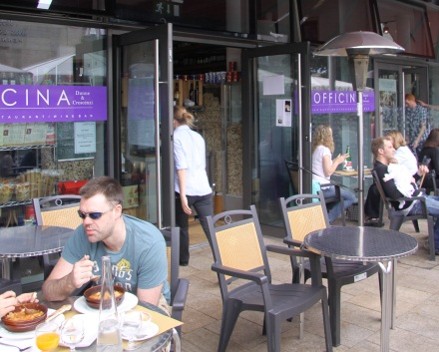 Stopped off in Dundrum Town Centre for lunch after a quick recce of the flood damage at the Mill Theatre.
Sitting outside under a parasol at the side of the pool on a sunny afternoon after a three hour drive from west Cork seemed a good move and we were rewarded with some great service by our Italian waiter.
I ordered a Fagioli salsicci, a sort of bean and tomato stew with fragrant herbed sausages sliced into it, accompanied by crusty bread. Definitely to die for.  Josephine chose the Gourmet Cheese and Ham sandwich with onion relish. Unfortunately whilst the cheese, ham and relish was unsurpassable the roll had been put under the grill and proved to be somewhat too crisp in places!
In the absence of a Pinot Grigio the waiter suggested the Falanghina which proved to be another worthwhile discovery.  Will be on my buying list if I can find somewhere that stocks it.
Against our better judgement we were talked into a sweet! Josephine got the last of the "House Torte", really a mixed fruit tart with cream, and I had the pear variation and a coffee. All extremely palatable
All in all a pleasant lunch and, at €42  excluding tip, good value.