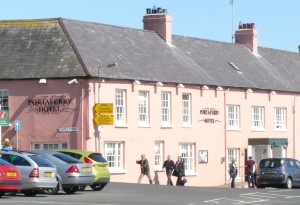 Following our walk around Mount Stewart Gardens we felt a little peckish so, being on the right road, where else would one go for lunch but the Portaferry Hotel.  I had a few qualms about getting a table as it is one of the most popular venues in the area on Sundays and holidays.  They do not accept bookings for bar lunches but one can book a table in the restaurant.  We arrived about 1.45 and found the bar full but the bartender suggested we have a drink and he would see what he could do.  Being a sensible commercial enterprise they threw open the restaurant for the bar overflow so we were only kept ten minutes or so.
The lunch menu is pretty extensive but, as the hotel is famed for its fish and the haddock and mussels had run out, there was only one choice to my mind;  seared scallops with bacon and garlic and sauté potatoes.  Josephine went for the Steak and Guinness pie with champ and fresh vegetables. Unfortunately they do not have a Pinot Grigio by the glass so I settled for a McGuigan's Chardonnay. Passable, just!
The scallops were a dream with piles of chopped garlic and julienne strips of bacon in a butter sauce.  The sauté potatoes were more like wedges which mad them ideal for soaking up the sauce and garlic.  This is not a dish for the cholestroley challenged patron!!
Josephine's pie consisted of about half a pound of steak, in 2″ dice chunks, with the Guinness sauce and a feather-light puff pastry crust set on top.  A  generous helping of champ was served on a side plate and the vegetables, cauliflower and peas also came separately.  Even with my taking one chunk of beef Josephine struggled to finish and enthused over the taste of bothe the pie and the champ.
I was unable to resist a portion of the double chocolate torte with fresh cream.  Very nice if you are into chocolate as I am.
It is not surprising that it is so popular and one hopes that the lady chef, who has been in residence for 38 years, never decides to leave.