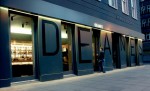 It is some time since I was last in Deanes and at then it had the brasserie on the ground floor and, what I considered to be, a rather pretensious restaurant on the first.  What a change for the better.  It is now clean cut and comfortable.  The reception area is perfect for a pre dinner drink and the "bite" they served along with it was good enough to request as a main course!  The dining area is roomy and bright with a minimum of "fuss". 
On being seated we had a selection of mini "loaves" with a choice of unsalted or Dulse (seaweed flavoured) butter.  A sort of pre-starter starter.
There is a choice of  5 starters and 5 mains on the àl a carte menu.  I chose the pan-fried local scallops with onion choucroute, pork cheek, fried black pudding bread and cauliflower.  The others, cappachio of smoked monkfish and slow poached breast of wood pigeon, were equally exotic and there were no complains either about the presentation or the flavours. 
 Accompayning wines were a Merlot and a delightfully crisp Pino Grigio. 
The John Dory fillet , pan fried with crab rosti, cured cucumber, spiced brown shrimps and lemon parsley butter was definately a winner for me and my fellow diners were as enthuiastic about the aged loin of Angus beef and breast of Irish duck.  The chips, which came as a side order, achieved being crisp and floury at the same time – mouthwatering.
For sweets we had one ice cream selection, which I was assured was a tasty as it appeared, and the reast of us shared the chesse board.  Our waiter explained each of the selection and suggest the best order in which to eat to gain the most from the various flavours.  The only disappointing piece was a Parisian goats cheese.  We made this point and were treated to commentary on the method by which it was made and the fact that, compared with some other goats cheeses, it could be considered less strongly flavoured.  A pleasure to have somebody serving who really knows their  "product" rather than just being competent.  We accompanied this with the recommended 10 year old port followed by cognac and coffee.
What more could one ask for on a damp Tuesday evening.