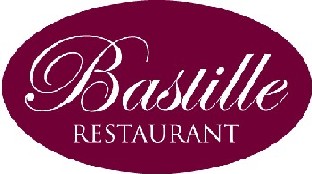 The only thing missing is escargot! The Bastille has a distinctly French approach to food and decor.  Our party of four had  pretty eclectic tastes and the menu certainly caters for a broad range including a seperate vegetarian section.  My starter choice was potted rabbit with onion marmalade whilst my companions went variously for frogs legs, mussles and the bouillabaisse (not the Marsailles version with fish heads etc.).
A very good Côte du Rhône (well two actually) accompanied the main courses of which the medallions of monkfish with wild mushrooms on spinach and the barbary duck were especially outstanding.
We shared two crème brûlée and a cheese board.  both were outstanding and the lattter more so for the choice of around six cheeses and not a hint of cheddar.
We wound up with port, coffee and brandy, plus one grand marnier.
Service was pleasant and efficient and with an overall price tag around £225 very good value for money.