Hi All  and welcome to the 2009 edition of my annual epistle.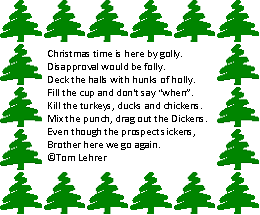 As some of you may know I went to Torquay in October to the 9th reunion of the Birgelen Veterans (more of which later) where I met up with Tom McMahon  who, whilst we partaking of a couple of beers on the sea front,  recalled a song by Tom Lehrer, "Poisoning pigeons in the park", the lyrics of which we could both chant verbatim. Singing not being my strong suite. So instead of a photograph I give you, inset, the opening stanza of the seasonal ditty "a Christmas Carol".
It really was good to get last Christmas and New Year out of the way; chest infection, cold, general old age, but all compensated for in February by our tour of  Vietnam from Hanoi to HCMC.  This is definitely a must go destination. The country is beautiful, the people friendly and the food something else. We spent a day an a half on a junk in Halong bay and this would have justified the holiday on its own. We did not repeat the error of rushing back at the end of the tour but spent 3 days lazing on the beach at Nha Trang.
March brought my 65th, which passed uneventfully excepting for the cake and presentation organised by my staff at the factory, they even brought Josephine down for the proceedings.
Following that we went down to Limerick for a conference and then on to Dublin for the Tina Turner concert.  Great show.  Hope that my legs are in as good a nick as hers at 69!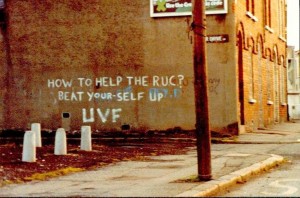 April brought the  great G20 recession but, as NI is always in recession, we sort of missed all the hype. We also missed all the police brutality, not that we'd have noticed anyway.  You need people to get shot with rubber bullets before its real brutality. There used to be a piece of apt graffiti off the Shankill, probably on the tourist bus route now.
On a lighter note April also saw the seals back in Belfast Lough and Polly Toynbee suggested the chancellor should be more like Lloyd George—can't see him as a raving womaniser or brilliant orator.  It ended with a conference in Kerry which included a round at Dooks and an evening Salmon fishing.
Took time to nip over to Birmingham to see my only living relative who is 80 and lives in a residential home.  I had lunch with my brother-in-law and his neighbour at the Red Lion in Earlswood. It is a typical Warwickshire country pub/eatery but enough to say I ordered a pint of real ale but the barrel was empty, we tried lobster and grapefruit, they had run out of grapefruit, there was no camembert for the whole baked camembert etc. etc.  The saving grace was the quality of the food we did get and pleasantness of the staff.
I don't know if you have flown BMI Baby recently.  They have thought up the most ridiculous system of boarding.  Anybody who has booked on line gets priority.  Free for all with people with seats in all parts of the plane trying to get their bags into the lockers at once. Hence queues near back to the terminal.
It was the 40th anniversary of our firms founding in June so we had a social get together at the Culloden Hotel, including lunch, for our clients,  major suppliers and staff.  Really successful day and got us some good publicity as well. The day after my company four-ball played in our usual charity competition and managed to get 3rd place.
My golf club ran a BBQ later in the month and they brought in a company that specializes in whole suckling pig.  Must be the best I've had since Cyprus.  They reckon a pig to 100 people.  Am planning doing this for my retirement party when I get round to going down that path!
For those of you, like all, who do not follow events in the backwaters, our esteemed First Minister's wife, Iris Robinson, former Mayor of Castlereagh, showed the true colours of Free Presbyterianism with another outburst against homosexuality. The original won her the Stonewall "Bigot of the Year" in '08. She has equated it as being worse than child abuse. This god fearing family, servants of the public, have been dubbed the "swish family Robinson"  after claims that they were receiving  over half a mil a year in various salaries and expenses, with a further 1.5K in salaries to family members.  Bet that's more than a duck house costs!
We went, with a party of friends, on a Jazz train; great evening out run by the Railway Preservation Society with an on board Jazz band who played on the platforms so that we could dance along the way.  Everybody brought their hampers of wine and sandwi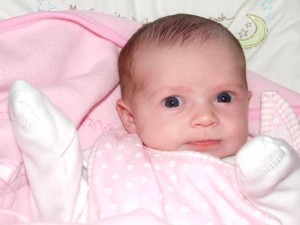 ches, pies, etc. so you can guess the way the evening ended.
The major event in August was the birth of our first Great-granddaughter, Kacie, 7lb 8oz. Doing really well and beginning to take notice of everything.  At this rate we're in with a chance of becoming great-great-grandparaents!
The weather precluded getting much golf played but, as we have had the busiest month that I can remember for some years, I was more than well occupied.  We had to start overtime 3 days a week and have only just reverted to standard hours!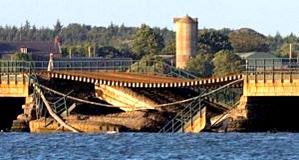 It was also this month that a section of the Belfast—Dublin train line fell into sea at Malahide shortly after the Enterprise express had passed by.  It was supposedly checked a couple of days before and declared safe. Would probably have helped if they had got a diver to check the piling!
September was pretty quiet on the whole, I was at a conference in Clare, held in the Clare Inn, a venue to be avoided at all costs.  The only thing they actually got right was the dinner.  Not to worry, I managed to fit in a round at Dromoland Castle which has been rebuilt to suit the American game;  very long with great distances between the greens and the next tee box.  Ah well, you can't have everything, I played with two ladies, one of whom could hit the ball much further than I, so guess who won the money.
We took off the Jersey for 4 days at the Greenhills Hotel. First time we've been to the channel islands and it was definitely a good choice.  Bit like the Isle of Wight in that it is living in a 50 year old time warp.  You'd go into the bar before dinner and there'd be a collection of blazers and old boys ties accompanied by blue rinses, all in the best possible taste.  The hotel was great and the food was superb, as was the wine list and the service.
The only two things prevented October being the most forgettable month of the year was the Birgelen reunion  and  the bribe of 600 million offered to Robinson and McGuiness if they would agree to devolve policing to the local assembly.  Of course this was not nearly enough to tempt Peter to compromise with the shinners.  The truth of the matter is that, outside Stormont, nobody really gives a toss if we have devolved policing or not (policing here is still a joke).  It just gives the DUP a stick to beat Sinn Fein and make Peter think he is something better than the petty minded self serving bigot that he always was.  WOW! rant over. The Birgelen vets bash in Torquay was well worth the effort. It could be cast as the Fred (Searle) and Taff (Harding) extravaganza and is run rather like the mess was in the 70's. I caught up with quite a few of the old crowd and swapped a lot of inconsequential gossip. Nevertheless I enjoyed reminiscing with old friends who are, on the whole, as detached from that existence as I am.  The most positive outcome is that Tom McMahon has talked me into starting his Coast to Coast walk in aid of McMillan Cancer relief.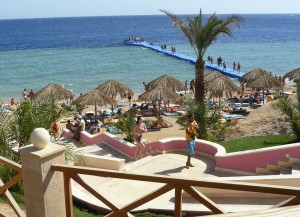 We set off for another break in November,this time a week in Sharm el Sheikh.  If all you are looking for is sun and sea, with the odd bit of culture  ( St. Catherine's Monastery) a world heritage site in the Sinai desert home to the Burning Bush and Moses well) thrown in, then this is the place.  Our hotel had its own beach and section of the coral reef so we relaxed, snorkelled, read, ate and drank and generally indulged ourselves.  Can't beat it!
On this side of the local pond Peter left home to try out house sharing with a pal.  It's supposed to be for four months but Josephine already has plans for his bedroom!
Dissidents made an almost successful attempt to blow up the headquarters of the Policing Board in Belfast.  They managed to get a 400lb bomb outside but, fortunately, only the detonator element exploded. Definitely not as well trained as the old days.
Bill Bailey, of Buzzcocks fame amongst other things, played the Waterfront Hall on his "Remarkable Guide to the Orchestra " tour.  Great show with Anne Dudley superb as conductor, composer, and sometime piano player. Trying to broaden my horizons! Still get the odd urge to join a theatre club again.
Our education system, once the envy of the rest of the UK, has sunk into chaos as the Assembly has not passed the law to inaugurate the Education and Skills Authority which was to take over from the five area boards (our equivalent of LEAs) on 1st January.  Seeing as the boards are being wound up by Dec 31 there will be nobody running our schools, libraries etc.. We really are working hard to achieve third world status!
So life goes on much as before, the mad rush to raise taxes based on questionable greenhouse science has finally hit a blip, not that I question climate change, only the extent of human involvement and the ability of politicians  to do anything effective about it, and having got our family Christmas over we will be off cruising down the Rhine to see in the New Year at Köln.
It leaves me to wish you all a very happy Christmas and a peaceful and hopefully prosperous 2010.