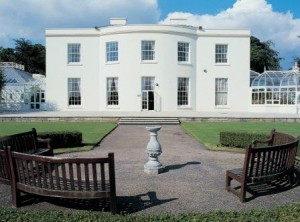 This is Rose week at Sir Thomas and Lady Dixon Park so lunch at Malone House just off the Milltown Road, only a stones throw away, seemed like a reasonable option.  Hadn't been there since the factory moved from the Boucher Road five years ago so was not sure what to expect. It is run by Belfast City Council and is popular for weddings, funerals and conferences; not necessarily in that order. It sits in a pleasant park bordering on the DUB playing fields, which meant the dogs got a walk, and the views from the rear of the building across the Lagan valley are exceptional (hence its popularity for weddings).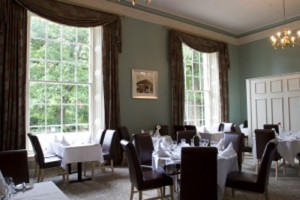 The Barnett room, which is the bar/restaurant is cosy and seats about thirty at a push. There were a few tables occupied and a funeral party were in one of the function rooms. This means that the staff were shunting between the two venues so the service was a little slow.
We waited about ten minutes to get menus and were informed that the days special was baked gammon with parsley sauce. We ordered this and a couple of glasses of sauvignon blanc.  The wine, and water, arrived shortly but it was near fifteen minutes before the main course arrived.
There was a substantial slice of gammon and the parsley sauce was rich with cream.  The mashed potato was a good as one would get anywhere and the vegetables, cauliflower, green beans, broccoli  and baby sweetcorn suited my preference for having them undercooked but Josephine felt they were a little bit too much on the raw side.
At £22.90 one could not complain about value for money.
They also do a great line in scones with cream and jam as elevenses or afternoon tea.
P.S. The roses were impressive too!