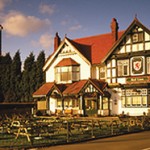 I flew over to Birmingham recently, 15 May 09, to visit my cousin in Willow Grange Nursing Home and took my brother in law and his neighbour, who keep an eye on her welfare, to lunch at the Red Lion at Earlswood. 
It must be 40 years since I last visited so have no recollection of what it was like then. The atmosphere as you walk in is comfortable, the wooden furniture completely in keeping with expectations and the staff welcoming. I am not usually a beer drinker but as there were three real ale kegs I asked a regular for a recommendation, the  Landlord Ale it was, the keg needed changing.  My companions settled for Guinness and a soft drink and we adjourned to a table to peruse the menu.  Eventually the waitress appeared and regretted that the barrel wasn't cleared. I settled for a bitter (of which she had kindly brought me a snifter).  We ordered, unfortunately, there was no Camembert for the Whole Baked Camembert, nor was there any Pink Grapefruit for the Lobster and Pink Grapefruit.  The waitress was mortified but managed to keep her humour. I asked if the chef could provide a lobster starter without the grapefruit –  He did and it was excellent.  The fish of the day as a main course was Hake and cculd not be faulted, served in a light lemon sauce.  My companions steaks were reported to be first class. The Pinot Grigio was first class.  Sweets passed without a problem but then robert ordered a Tomato juice and worcester sauce, no worcester sauce! "Try tobasco", says I. No tobasco.
"I'd settle for horseradish", says Robert. No horseradish.
Oh well the coffee, the Brandy and the service were super and the price reasonable.  My congratulations to Jane who managed to keep us in excellent humour.