The Rochestown Park is another of my favourite haunts on the South Coast.  It is quite a while since I was last there as business needs made the Blarney Park (unfortunately now closed down) or the Carrigaline Court more convenient.  As it was my appointment was in Curraheen,  just off the south circular road as is the hotel.
Last time I boooked in they were looking €120 a night and it is now back to €89 for B&B, a sign of the times.  Having said this they were fully booked which cannot be bad for mid-week.
The rooms are "old world" with plent of space, mine had an L shaped desk with Leather swivel chair as well as the usual dressing table, combined ironing board and trouser press, tea and coffee, etc. etc. Free WIFI as well.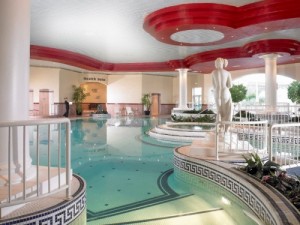 They have an excellent leisure suite and pool plus a spa which, due to time constraints, I did not get round to using on this trip.
I went for an evening meal in the Sutton Bar rather than the main restaurant. They have quite a good menu and I picked on the duck breast with oriental vegetables and noodles.  The duck was well cooked but I felt that the sauce/glaze was a little too reliant on 5 spice powder.  The vegetables were very good but relied too heavily on various coloured peppers for the volume, whereas I would have preferred a little more in the line of water chestnuts and bamboo shoots.  What I did like was that they served the noodles seperately in a bowl so that one could mix in the sauce as one wanted.  They have quite a good line in wines by the half bottle.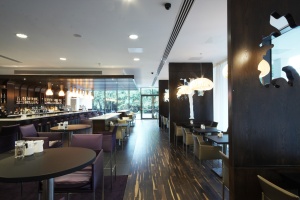 The bar was really busy but they have service very well organised with waiters and waitresses allocated to specific areas of around a dozen tables (you may guess the overall size) and you get typical Cork service with a smile and a chat.
I had a fairly early night and was up early for breakfast; there was a notice in the lift suggesting that, due to the number of people in residence this would be a good idea. There was plenty of fruit and a comprehensive selection for an Irish breakfast. My only complaint would be that the cold table consisted of chorizo and a rather bland cheese, not a sign of Irish ham or smoked salmon, which was rather disappointing.  Never mind the tea and toast was most acceptable.
If you want a good hotel on the south side of the City with perfect access to routes out to West Cork then you could do far worse than this.