We picked this restaurant from a recommendation on eating out in Como in the New York Times; sent to us by an American friend.  It is not a classical Italian Restaurant by any means but the service is very good and professional and food is definitely different.  It is intimate with about a dozen tables and for this reason it is advisable to book.
There is an  à la carte menu or two "Tasting" Menus, one "Classic" and the other  "Gourmet".  "In for a penny in for a pound" we chose the Classic: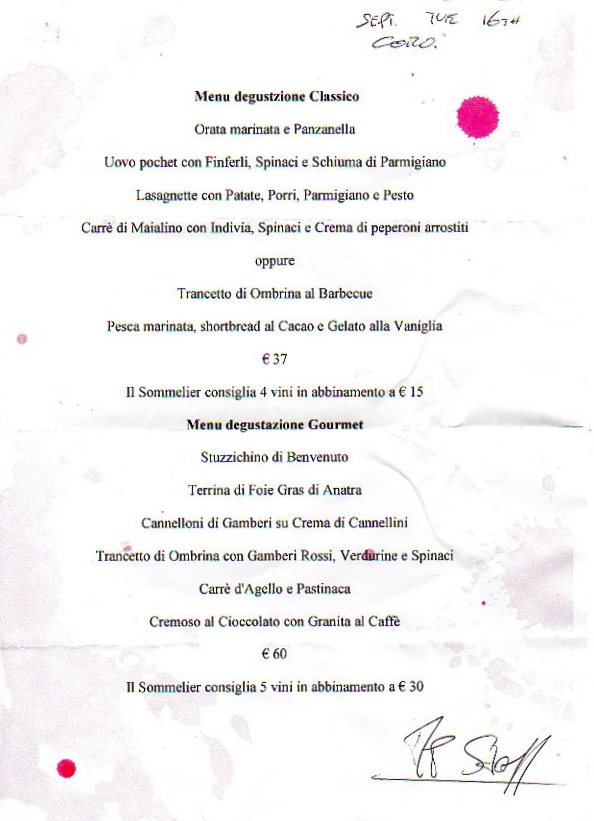 This started with Marinated Bream and Panzanella, a Tuscan Salad and was followed by A pochet egg (a poached egg yolk) on spinach with chanterelles and Parmesan foam. Believe it or not it was really tasty even if the pochet was lost in translation)
Then came the really Italian course: Lasagna with potatoes, leeks and a Parmesan pesto – Yum.
There was a choice of "mains", the meat option being a rack of pork with roasted peppers and endive cream or a Trancetto (if you can find a good translation please comment on this page – my best guess is "slice") of barbecued Umbrian fish. We chose the pork which was delightful.
To finish off there was shortbread and chocolate and vanilla ice cream.
I have included the menu above as some of the courses are, for me, quite difficult to translate, but I am sure there are some cunning linguists who can offer an explanation.
We had a very nice bottle of Italian Red, a Trentino Pinot Nero DOC 2009 "Forte di Mezzo", Maso Cantanghel Pinot Nero which is a very fine sounding name and probably explain the price tag of €28.
The evening was wrapped up with an espresso and a grappa as usual.
An interesting experience at €110.50 but probably a little way out for our tastes.