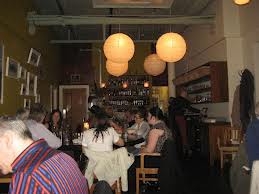 Located only about a couple of hundred yards from the Grand Opera House the Ginger Bistro is in an ideal position for a pre theatre meal.
The menu which runs from 5 to 6.45 is an extremely well priced truncated version of the main menu.
We ordered a plate of breads to share which came with one of the best  tapenade I have tasted.  Oh yes; and a perfect melt in the mouth wheaten.
As mains we opted for the pies, one fish and the other a Shepherd's.  The shepherd's included perfectly cooked lamb, in large chunks, chorizo and black pudding. Both came in individual pie dishes piping hot.  The potato topping was nicely browned without being dried out.  Altogether very appetizing.  We accompanied them with chips and a bottle of South African Shiraz.
I took an Americano to round it all off.  Total bill £45.00.
The service was personal and efficient so we will no doubt be back.