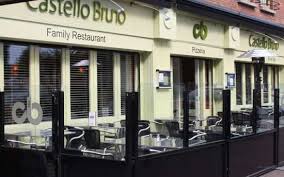 Not a million miles away from central Dublin this family restaurant on the Main Street of Castleknock village was introduced to me my good friend Joe Griffin who lives a medium stones throw away in Dunboyne.
We called in for lunch in-between meetings at the Irish Nurses and Midwives Organisation in Brunswick Street North and Castleknock College; as one does!
It has a pleasant and comfortable atmosphere and a staff to match. I had intended to have a snack but the menu was far to appetizing and, on top of that, they were offering Chicken Puttanesca, breast of chicken in a piquant sauce containing chilli and anchovies (I'm a sucker for anything containing anchovies). We both chose this and added a portion of fries between us to accompany it. In for a penny in for a pound we rounded off with an excellent Tiramisu and coffees. Add in a bottle of Peroni and the bill was €53.60 – great value for money as well.